How much can I cram into a USPS Flat Rate shipping Box? You'll have to enter my craft supply box giveaway to find out!!
When my blogging buddy, Kathy with Petticoat Junktion, mentioned her plan to organize several simultaneous giveaways of surplus craft goodies, I jumped at the chance to take part!
You see, I am pretty much a crafting junkie. I LOVE all tools creative… everything from paper crafts to fabrics. And one of the fun fringe benefits of this job are that you can end up with tons of swag from conventions, meet-ups and sponsored posts. I'm excited that I get to share some of that with you!
This craft box includes:
Frog Tape
Duck Tape
Gorilla Glue
Coloring Sheets
Acrylic Paints
Paint Brush
Ribbon
Tote Bag
Artisan Paper
Fabrics
and MORE!
As you can see, these craft supplies are new, unopened products by some of the most well-known brand names in the crafting and DIY world! Not bad for free, right?
After you enter my craft supply box giveaway, be sure to visit the other great blogs and enter to win their giveaways too!
To enter: Simply follow the prompts in the Rafflecopter below.
To unlock extra entries, leave a comment on this blog post. To enter every day, you only have to answer the question posed in the Rafflecopter – you don't have to leave a new comment here on the blog each day.
-Giveaway ends February 19th-
Be sure to visit Kathy at Petticoat Junktion to enter her giveaway! Show her some extra love, since she is the host of these fun giveaways (she'll be doing one each month with different bloggers participating).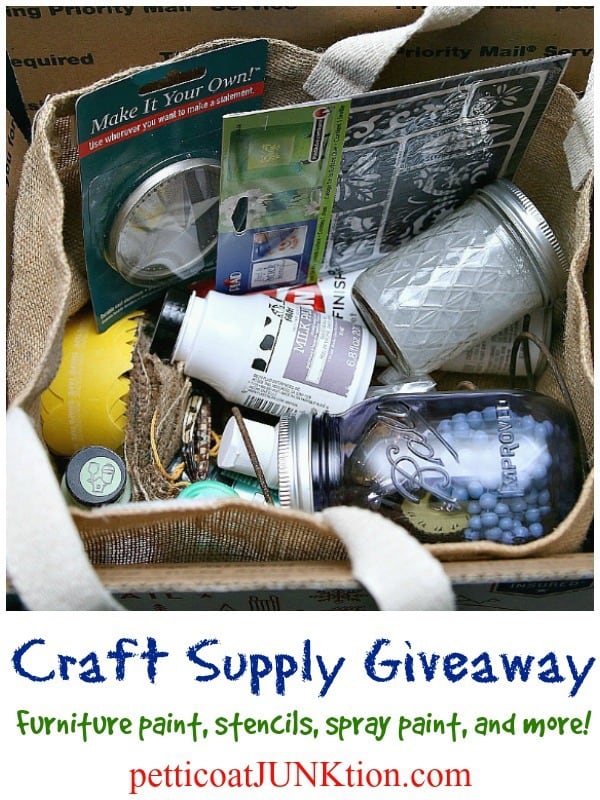 And here's another awesome box to enter to win from the Interior Frugalista!
Visit Yesterday on Tuesday to try to win this great box of treats:
Finally, here's the fab craft box from Just Vintage Home:
Wasn't this fun? Let me know what you think of this giveaway idea! And enter now… here's that Rafflecopter again:
Copyright protected by Digiprove © 2017